It's Official!! Recital Date: June 2, 2018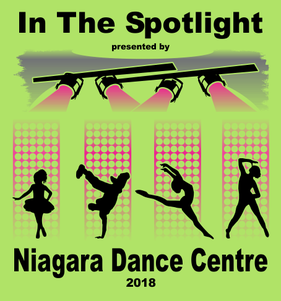 In The Spotlight, our 2018 recital, will take place on June 2, 2018! The recital will be at N.F.H.S., curtain time 11:00 a.m. The finale song is still to be decided but will be a compilation of songs that fit the theme of the recital. Detailed information packages will be distributed in May. BE SURE TO READ THEM CAREFULLY! Information always changes from year-to-year; be sure to read everything and pay attention to details to keep track of the numerous events (i.e., stage rehearsal, picture day, and in-studio dress rehearsals). If you have any questions about dates and times, feel free to ask Miss Jessica or your child's teacher.

For additional information about the studio, be sure to follow us on Facebook www.facebook.com/niagaradancecentre, and Instagram at niagara.dance, or e-mail: MissJessica@NiagaraDance.com.
---
Niagara Dance Merchandise
You can order our merchandise online and have it sent directly to your house!
To check out or purchase our new merchandise, just click: ​
http://teamstore.gtmsportswear.com/NiagaraDance
We also have our older merchandise on sale. Quantities of each are limited and all items are sold on a first-come, first-serve basis.
Click here for a
price list
of available items.
---
Our Dance Family
We want to thank our returning students and families for believing in us because your support has helped us become what we are today. We are fortunate have such talented people associated with our studio!

If you are new to Niagara Dance Centre, we wish to extend a warm welcome. We appreciate the opportunity to work with you and your children and hope you will join our "family." It is our quest to see that every student has a positive experience.